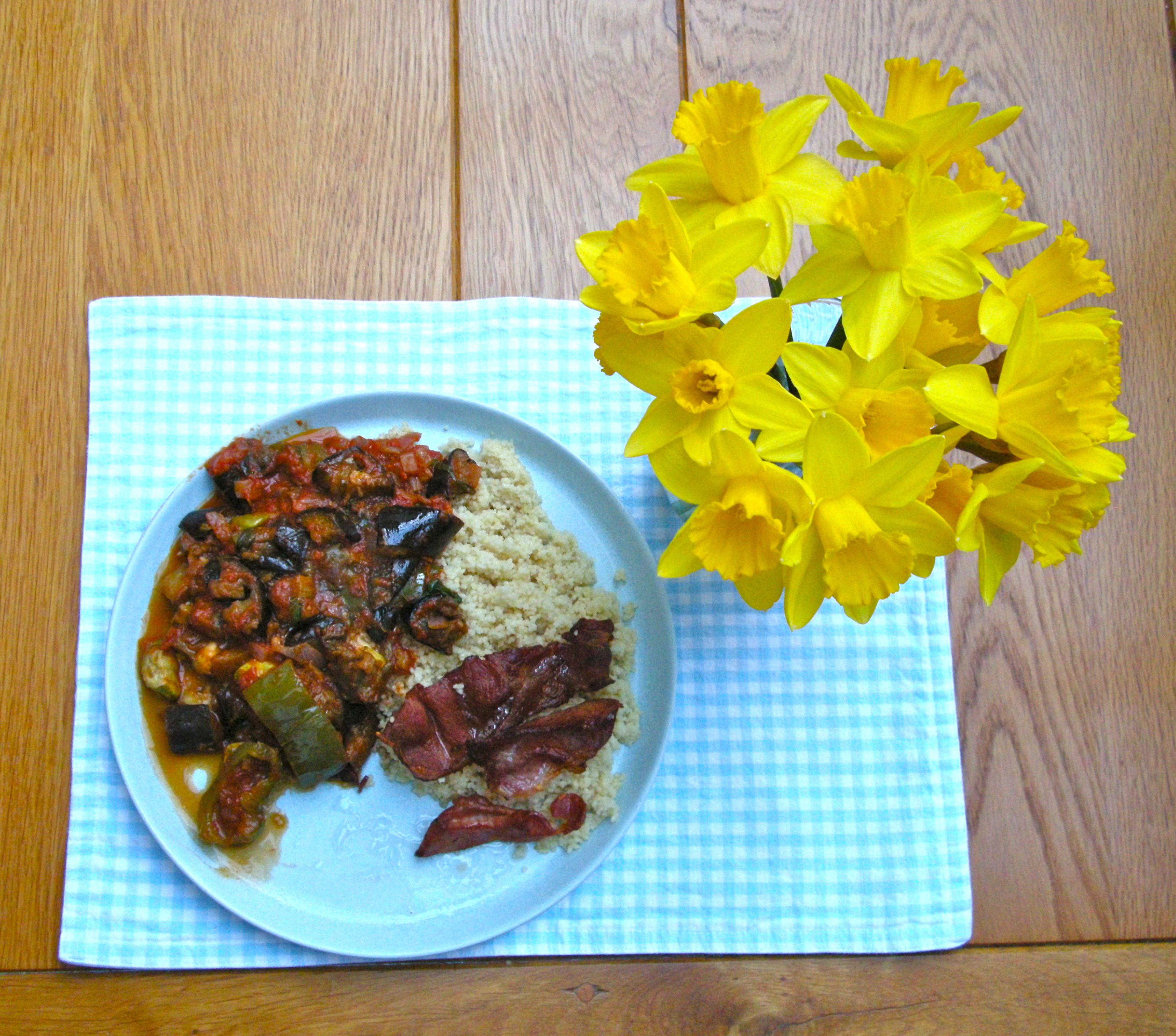 The sunshine in Spring makes everyone crave light, healthy meals ideally enjoyed al fresco, but I'm still hankering after something a little more substantial (salad leaves me hungry) < get it?

So Ratatouille makes a lovely meal for right now: a rich, chunky sauce packed with fresh vegetables. Serve with couscous and bacon (or sliced avocado for a vegan option) and a cold glass of something indulgent. I love it from my head to-ma-toes!
To serve 4 people, you will need:
1 large red onion
3 large tomatoes
2 large aubergines
2 large peppers (I used green and yellow for colour variation)
4 medium courgettes
2 large garlic cloves
Fresh basil
Olive oil
1 tbsp red wine vinegar
Jar of Passata
1 tsp caster sugar
First step is to prepare all of the vegetables: start by washing and drying them thoroughly.
Top and tail the courgettes, peel them and chop into large chunks.
You will need to skin and de-seed the tomatoes: score an X shape into the bottom of a tomato, and place into small bowl and cover with boiling water and leave for a minute. Then take a fork and stick it into the stalk end of the tomato and the skin should have split a little, allowing you peel it with ease.
Do not peel the aubergines. Simply cut them lengthways, then quarter and then chop into roughly 2cm cubes.
Place the aubergine and courgette pieces into a large oven dish and generously drizzle olive oil all over and put them into the oven for an hour. Turn them halfway through, adding a little extra olive oil if needed.
Finely chop the red onion and crush the garlic cloves. Slice the peppers into rings (removing the seeds as you go). Fry the onion in olive oil in a large saucepan (as everything gets added to this) and then add the garlic. Once the onions are transparent, add the peppers.
Wash the basil and tear it into large-ish pieces.
Chop the prepared tomatoes into chunks and add to the onions and peppers, along with half of the torn basil.
Cook for a few minutes and then add a tablespoon of red wine vinegar and a teaspoon of caster sugar and stir.
Add about 400g of passata (roughly ¾ of a large jar) and simmer gently for 10 – 15 minutes until the courgettes and aubergine are brown from the oven and roasted to perfection. Fold them into the sauce gently so that they maintain their shape. Continue to simmer until needed.
A minute before serving add the remaining basil and stir.
Drag yourself away from the fragrant kitchen and enjoy.
Pepper. Pepper. Pepper.
Pot of pepper –
popper pepper –
pips in peppers –
peps in pippers –
peeping peppers –
pepper paper –
prattling paparazzi.