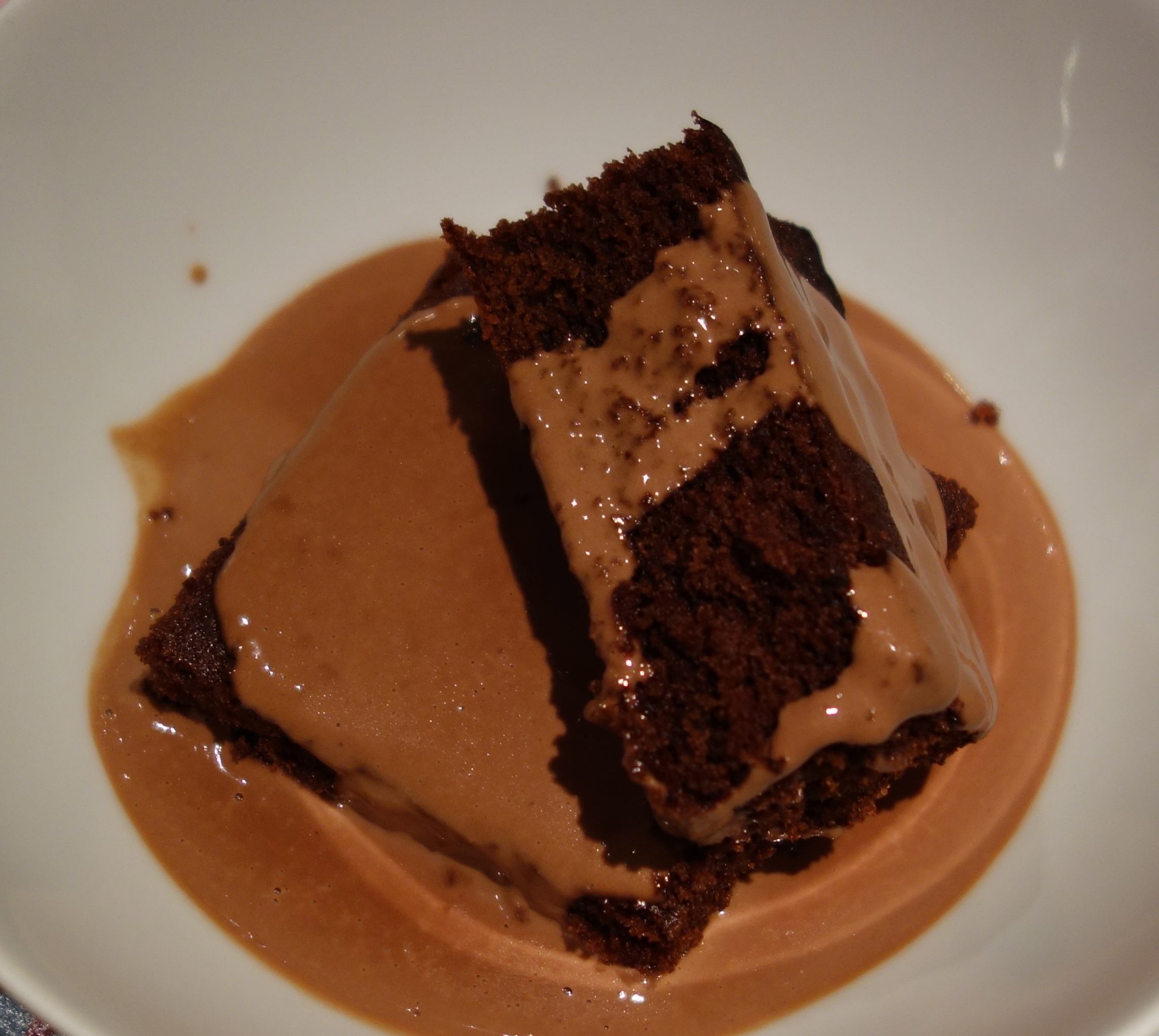 Your new favourite Autumnal dessert is right here. It's a delicious double whammy of chocolate: the most perfect chocolate sponge covered in a silky creamy chocolate sauce. You make the sponge like a tray bake and watch it rise (cake rising in the oven is my favourite show) as it becomes a super springy chocolate cake with an air-whipped centre. So it's incredibly light, yet naughtily rich. If you bake this for your friends pour the chocolate sauce into a little jug so everyone can serve their own as they please. Just get ready to divulge the recipe afterwards! Good thing it's very easy to prepare…
For 4-5 people, you will need:
75g golden caster sugar
50g dark soft brown sugar
125g butter, softened + a bit extra for greasing
2 free range eggs
1 tsp vanilla extract
125g self-raising flour
1/2 tsp baking powder
60 ml whole milk, warm
2 heaped tbsp cocoa powder
For the chocolate sauce:
100ml whole milk
200ml double cream
50g good quality dark chocolate (70% cocoa solids)
2 tbsp golden syrup
Preheat the oven to 180°C. Grease a square-shaped oven dish with a bit of butter.
Put the sugars into a bowl, add the eggs and gently whisk until light and slightly fluffy.
Add the softened butter and vanilla extract and whisk again until soft.
Sift the flour, cocoa powder and baking powder into the mix and fold with a spoon until it's all incorporated. Warm the milk up a little, allow it to cool a bit, and add it to loosen the mixture and stir (if the milk is very warm or even hot, then the eggs may start to scramble. Not good!)
Pour the chocolatey goodness into the prepared oven dish and into the oven for 30 minutes until it's light and springy to the touch.
For the sauce: chop the dark chocolate into small squares. Pour the milk and cream into a small saucepan on a very low heat, add the chocolate and golden syrup and stir until it has melted and you can't resist it any more!
Divide the chocolate sponge into squares and pour the chocolate sauce over the top. If you have any left it's also very nice cold the next day, so simply refrigerate the remaining sponge and sauce.