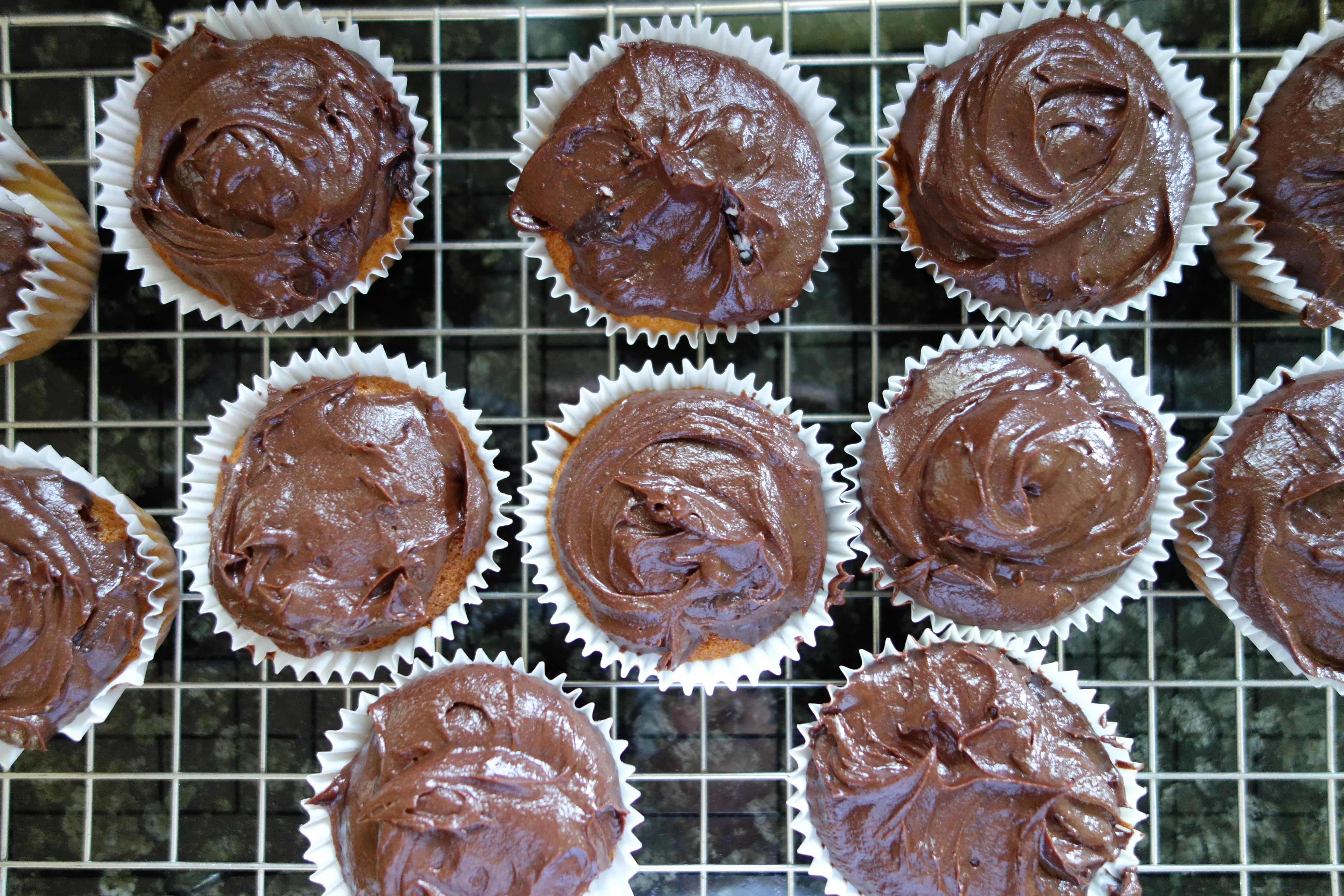 One for chocolate chompers. I've made this recipe so many times and it's always a success as it's so easy. Light, fluffy vanilla sponge topped with rich sweet chocolate icing. Divine!
You will need:
140g caster sugar
40g butter, softened
120g plain flour
1 ½ tsps baking powder
Pinch of salt
130ml whole milk
1 free range egg
1 tsp vanilla extract
For the chocolate icing
300g icing sugar
110g butter (softened)
40g good quality cocoa powder (I like the Green and Black's Organic cocoa powder)
40 ml whole milk
Preheat the oven to 170°C/325°F/Gas 3.
Put the sugar and butter in a bowl and stir until a creamy consistency. Sift in the flour and baking powder and add the salt and beat all of the ingredients together with a hand held electric whisk until it's a nice sandy consistency.
Pour in half the milk and briefly whisk until just incorporated.
In a separate jug, whisk together the remaining milk, egg and vanilla extract.
Pour it into the sandy flour mixture. Continue beating until it is all just incorporated – make sure not to over-mix otherwise your cakes will come out flat.
Carefully pour the mixture into paper cake cases until just over half full.
Bake in the preheated oven for 20 – 25 minutes until they are pale gold in colour and springy to the touch. Leave the cupcakes to cool while you make the icing.
Sift the icing sugar and cocoa powder into a clean bowl and add the softened butter.
With a hand held electric whisk (or a spoon if you're feeling strong!) beat the mix until the ingredients come together (the longer you whisk the lighter the icing!)
Spoon the icing onto the cooled cupcakes and store in the fridge afterwards.
Perfect for parties with hundreds and thousands of sprinkles / guests.
Chocolate. Chocolate. Chuckle late. Trickle chat. Chicanery tackle. Truckle cheeky.