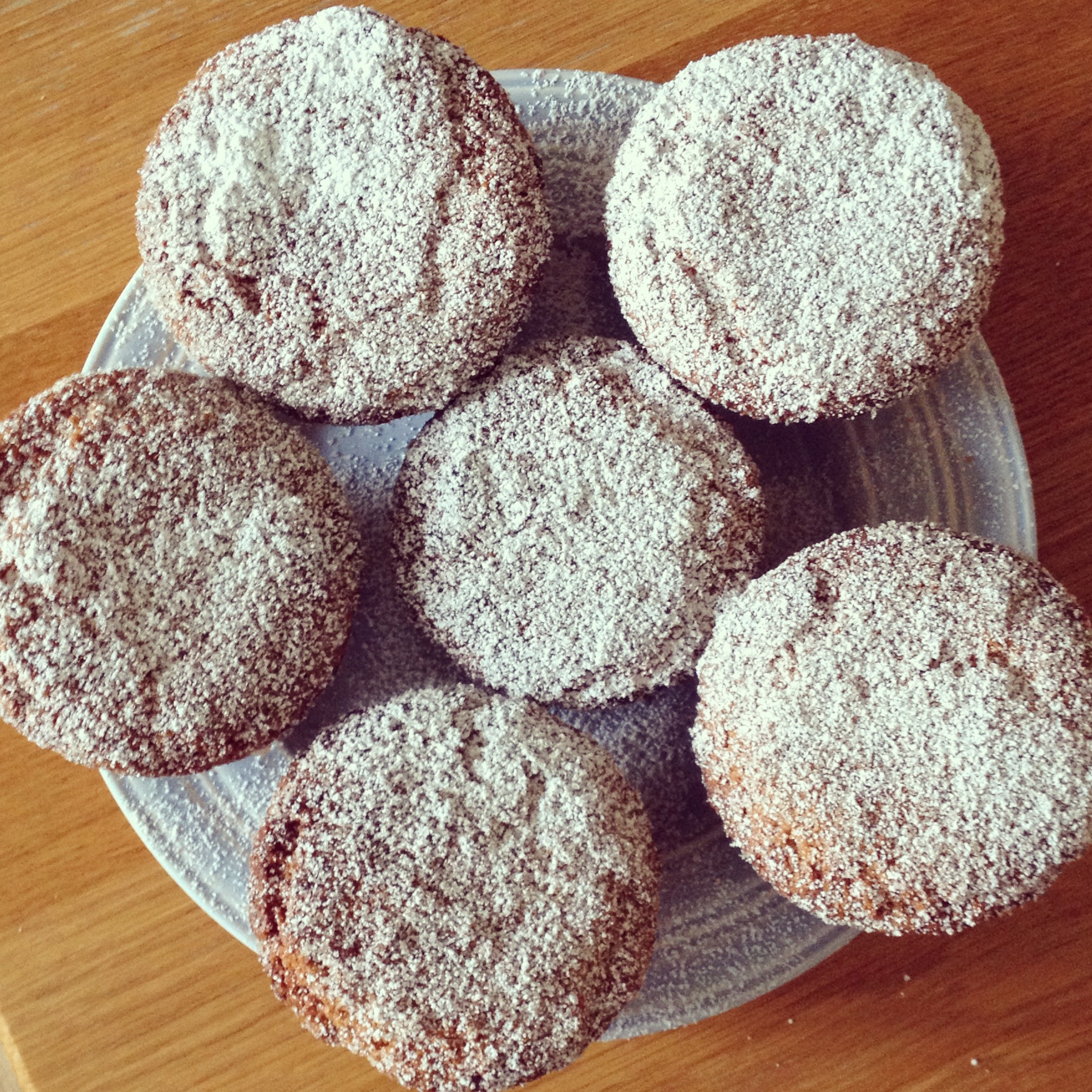 Homemade doughnuts! I know what you're thinking: 'It sounds really complicated… and I'll need loads of equipment… and a deep fryer… and it'll take ages.'
Nope!

You will only need a deep muffin tin (and an oven), and they're very quick to make. Because there's no deep fryer involved, they come out a little like doughnut-muffins. Very, very good indeed. Can't you feel their eagerness to be a part of your chaotic tea-time smörgåsbord?
To make 12 doughnuts, you will need:
200g butter, softened
200g golden caster sugar (plus a couple of tablespoons extra for dusting)
2 large free range eggs
1 tsp vanilla extract
300g self-raising flour
½ tsp baking powder
½ tsp bicarbonate of soda
100 ml sour cream
12 heaped tsp seedless raspberry jam
2 tablespoons of icing sugar, sifted (optional)
Preheat the oven to 180°C. Fill a large deep muffin tin with large muffin / cupcake cases.
Put the butter and sugar in a bowl and briefly whisk together until pale and creamy. Add the eggs and stir.
Sift the flour, baking power and bicarbonate of soda gradually into the mix, stirring as you go.
Pour in the sour cream and beat until smooth. Add the vanilla extract and stir.
Place a spoonful of mixture into the muffin cases. Make a dip in the middle of each cake with a teaspoon and then add a generous heaped teaspoon of raspberry seedless jam to each one. Top with a little more mixture and spread to make sure the jam is completely covered with cake mix.
Bake for 20 – 25 minutes, until risen and golden.
Allow to cool for 10 minutes and remove from the cake cases. Pour a couple of tablespoons of caster sugar and icing sugar (if using) into a bowl and roll the doughnuts in the sugars.
A lovely tea-time treat – something fun to try out over the Easter holidays!
Do not deny yourself a doughnut.
When a sugar rush is much too slow
and you have wheels on your heels
that will not cool.
It springs up fine but never down
up and up until
you're stuck on the ceiling
chasing the beams
– running along them
like tracks at the Olympics.
Sugar coated lanes
dusting the way
– a guide to lick and
last.