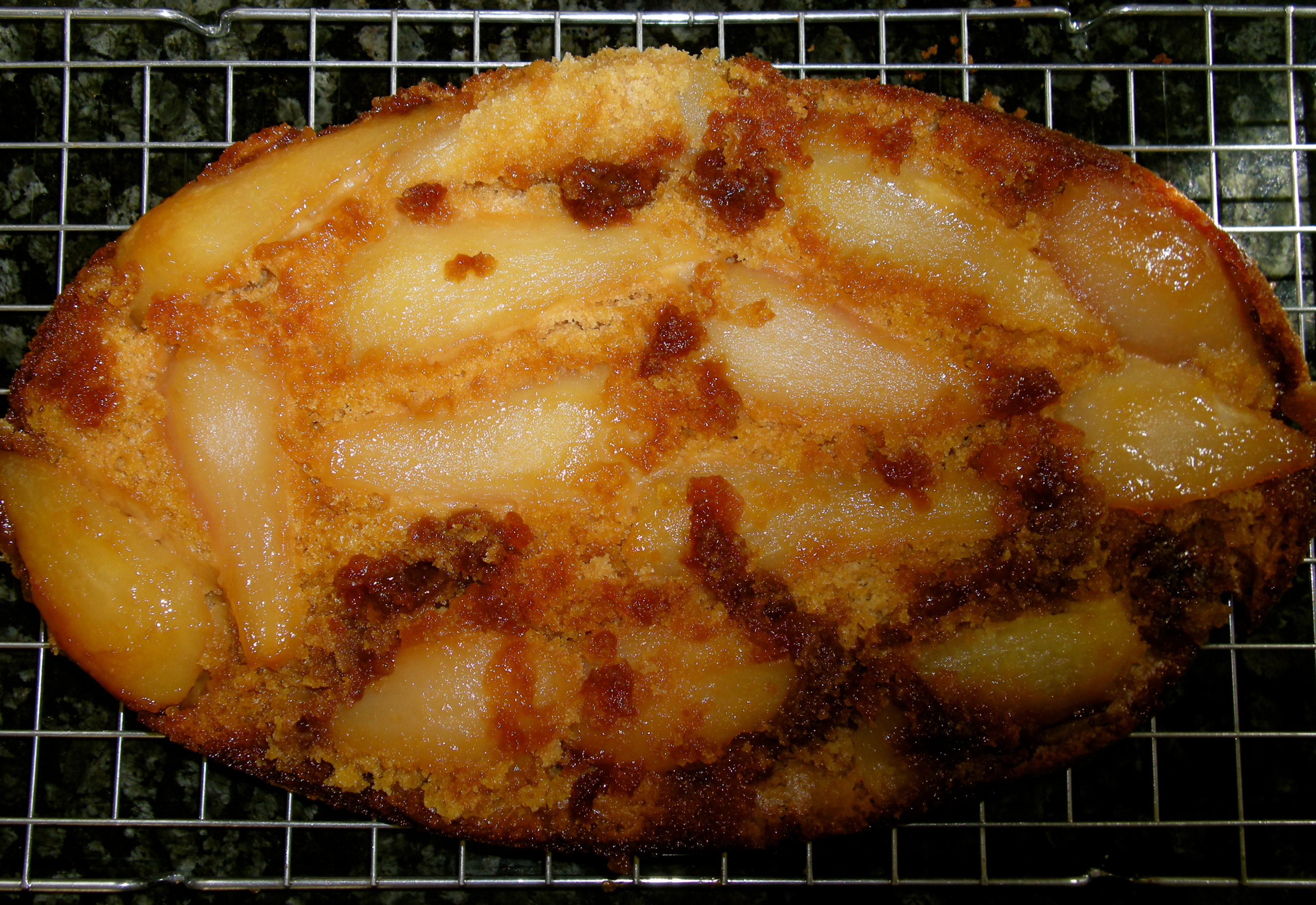 This luxurious pear upside-down cake is a cracking teatime bake (its top cracks so pleasingly) for friends coming over at 'Twixtmas' – the fun festive time between Christmas and New Year. The juiciness of the pears with the richness of the sponge make it cake perfection. Your tastebuds are pulled all over the place. Light / indulgent.
To serve 4 – 6 people, you will need:
3 large pears (or 4 smaller ones), cut in half.
2 ½ oz butter
2 ½ oz brown sugar
9 oz plain flour
4 tsp baking powder
½ tsp salt
5 oz caster sugar
1 egg
2 oz butter
¼ pint of whole milk
Mix the 2 ½ oz butter with the brown sugar until it's a creamy consistency and spread the mixture over the bottom (and a bit up the sides) of a large oven dish.
Arrange the chopped pears over the mixture with the flat sides facing up.
Preheat the oven to 180°C.
Sift the flour with the baking powder and add the salt and set aside. Soften the 2 oz butter with a spoon and add the sugar and a whisked egg and beat well until light and fluffy. Stir in the flour alternately with the milk and mix together.
Spoon the cake mixture into the oven dish and bake in the oven for 50 – 60 minutes. When the cake is ready, turn it upside down onto a plate and hold it there for a minute to allow the sugar mixture to lovingly drizzle over the sponge, before removing the dish completely. Serve warm. Although it's also absolutely delicious cold if you have any left over.
Pears yellow ochre
brave and mellow in ochre
not mediocre,
ochre I said.
Aches in flavour,
ochre,
juice and plump
special ochre
sponge soaker
-s up the ochre
not like a chore, as it
hues and hums.
Ochre.