What to pack for a festival…
Festival season is almost upon us and packing economically while preparing for scenarios (hopefully) only found at festivals can be tricky. But when you see the queue for the showers, you'll be grateful to have packed the things you need to maintain a fresh festival-chic look!
As running water is a scarcity, the cleansing part of your regime is going to be formed of various wipes and sprays. Your makeup needs to be long lasting but unfortunately that can sometimes mean it feels thick and heavy, less than ideal if you're hot in a crowd. Not with these products!
I've come up with the ultimate festival survival kit. Minimal effort, maximum results. Fuss free makeup and skincare. Streamline your makeup: don't bother with mascara, makeup brushes and bulky bottles of foundation.
Here we go!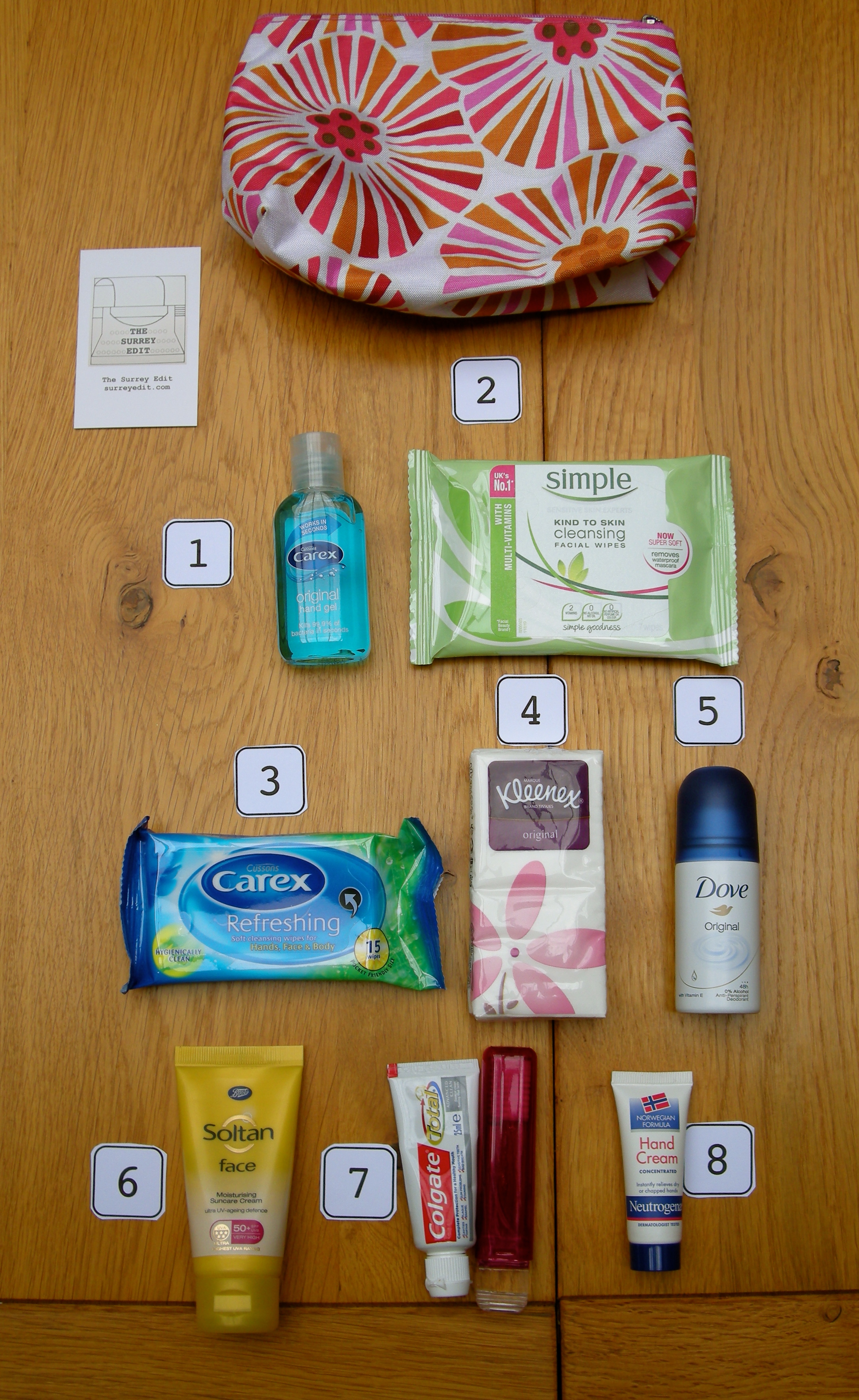 Obviously you're going to need:
A sponge bag.
1) Carex Hand Gel £1.45.
2) Simple Facial Cleansing Wipes £3.25.
3) Carex Refreshing Cleansing Wipes £1. Yes, you'll want both kinds of wet wipe, as you can use these ones on your hands and body.
4) Travel tissues.
5) Mini Dove Deodorant £1.20.
6) Boots Soltan Face Moisturising Suncare Cream SPF 50 £4.50 (half price at the moment!) + a body sun cream.
7) Travel Toothbrush £1.55 (Superdrug) and Colgate Travel Toothpaste about £1.20.
8) Mini Neutrogena Hand Cream £1.20. Frequent hand sanitizing can take its toll on your hands, so apply liberally before you hit the tent.
All of the above available from Boots stores nationwide.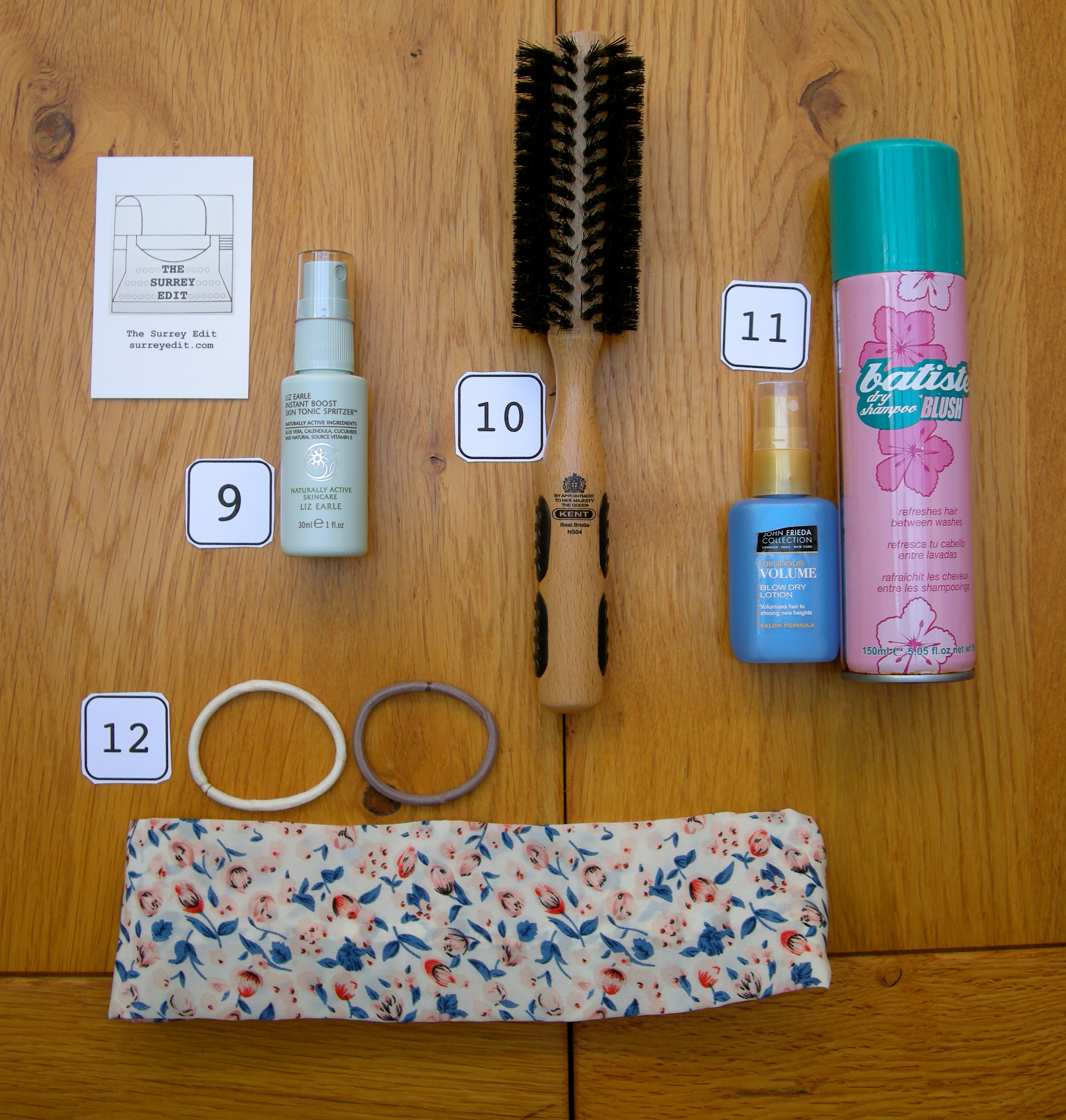 9) Liz Earle Instant Boost Skin Tonic Spritzer £5.50. Beautifully scented lightly hydrating toner revitalizes and refreshes skin. Apply under or over makeup for an instant cool down.
Available from Liz Earle stores or online.
10) Kent small radial hairbrush £8.50.
Perfect for brushing through…
11) Batiste Dry Shampoo On The Go Blush £1.50 and/or John Frieda Luxurious Volume Thickening Blow Dry Lotion about £2 (both from Superdrug)
Hair routine: wash your hair just before you leave. On your first night do your hair in about 8 plaits and scrunch together in a bun and you'll wake up with perfect beachy waves. Dry shampoo (or brush through the John Frieda blow-dry lotion) the following day and repeat the process of plaiting at night. Cover on day 4 with a big hairband like no. 12 in the picture) from Accessorize (£6) for the moments when you take your hat off!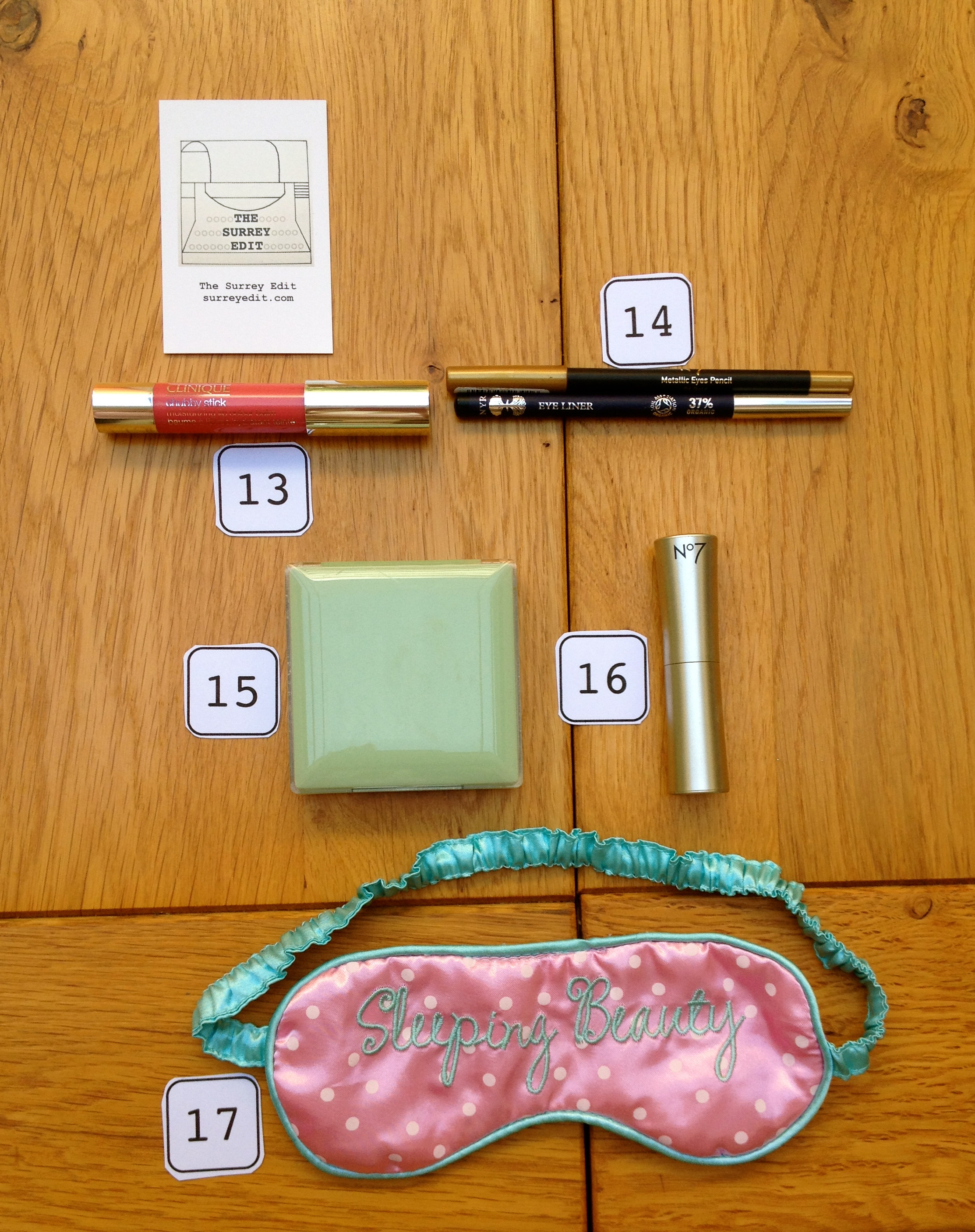 13) Use your Clinique Chubby Stick Moisturising Lip Colour Balm (£17) in Mega Melon as a blusher as well as a lip colour.
14) Opt for a striking eye with bright eyeliners. Neal's Yard Midnight Mineral Eye Liner £9.50 and/or Boots No7 Metallic Eyes Pencil £6.50.
15) Take a compact. Clinique Stay Matte Sheer Pressed Powder (£23) is excellent for concealing and mattifying large areas (plus the mirror is very handy!)
16) If you're worried about big blemishes though, take a creamy concealer stick for on the spot touchups. This Boots No7 Match Made Concealer (£7.50) is ideal and doesn't take up too much room!
You'll probably still be awake at dawn, but just in case pack a sleep mask (The Lemon Tree or other gift shop £5).
Have fun!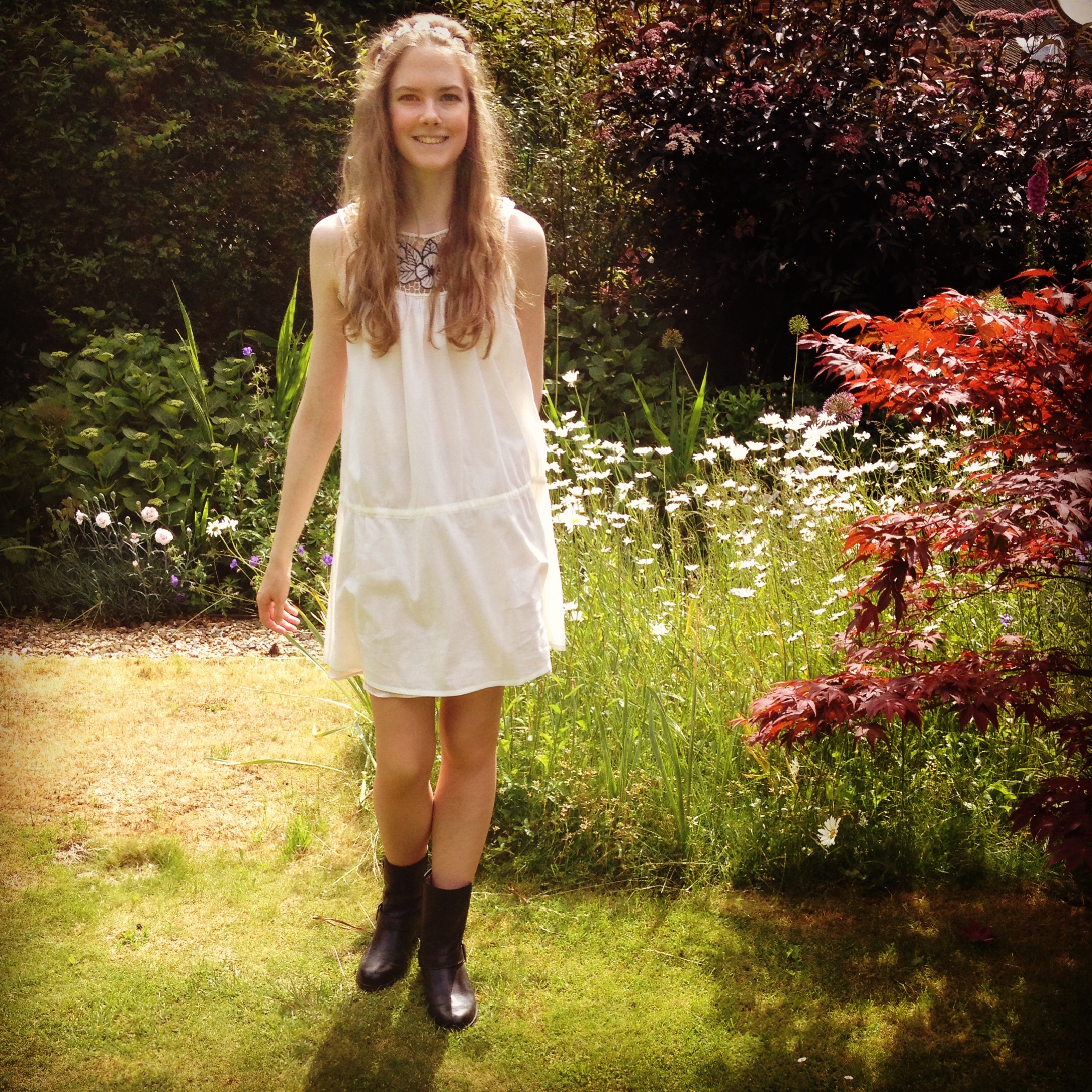 (Wearing Accessorize Daisy Bando, Topshop Dress, Clarks boots).
Turn up the volume.
we have no time for a silent disco.
You need to fulfil your quota of words
for your pop 'zine or
nice niche cultural rag
with fiercely loyal readers.
Does the ringing in your ears
match the
ones
stacked
on your
fingers?
Someone was blowing smoke rings earlier.
Round and round we go.